Introducing the Team – Emma Bolton
I am sad to say we are nearing the end of this blog series with only 3 more team members to go. This week we are getting to know our newest team member, the multi talented, globe trotting, Emma Bolton.
It all began on February 15, little baby Emma Jane Bolton made her entrance into the world at the BGH, welcomed by her parents Byron and Sheri, and her brothers James and Josh. Growing up in St. George Emma was very involved in several sports, including, but not limited to soccer, cross country and figure skating.
Emma spent her summer months swimming at her grandparents' pool, riding her bike with her brothers and roller blading with her best friend. She was a very inquisitive child and a real bookworm. She has many fond memories of cooking and baking with her nana, sparking her love of the culinary arts. She has a very special bond with her nana and some of her favourite memories looking back are of sleeping over at nana's house on the weekend, with a special treat of Honey Nut Cheerios, which was an otherwise forbidden food at the very healthy Bolton house. The Bolton family is very close-knit and Emma absolutely adores her cousins.
Emma attended St. John's College where she ran cross country and played volleyball and rugby for the first 2 years, then focused solely on badminton and tennis the last 2 years. She was in leadership and had the opportunity to be a part of many volunteer opportunities and conferences, which is how she met her partner Aaron. She finished high school early so she could go on a mission trip. Emma's favourite subjects in school were biology, chemistry, French and gym.
She graduated from Laurier University in 2017 with a degree in health studies and a minor in psychology. Her university experience was amazing and she misses everything about being in school. She especially loved nutritional sciences which pairs very well with her vegan lifestyle and her love for vegan baking and cooking.
Emma has a passion for rescuing animals and has always supported by acquiring her pets via rescue. She has two dogs, Copper and Rocky. Copper is toy poodle/jack russel mix and Rocky is cocker spaniel/poodle mix. Copper, or more lovingly known as 'squirrel' loves the dirt and you can tell because is always covered in it! Rocky is very sweet but also mischievous, he's just much better at not getting caught than Copper.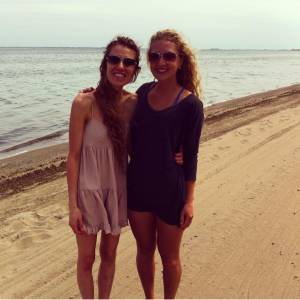 Fun fact: Emma collects jobs, at least that's what her family jokes. She is easily bored so she always loves having lots of different jobs to keep her busy. She is a vegan baker, a real estate marketer, but she also works at Laurier as a research assistant. She helps her brother James run his photography and videography business as a social media manager and photo editor. Her daily life is very chaotic, and she wouldn't have it any other way. Her dream is to co-own a studio with her brother one day where she hopes to develop her skills in food photography but also continue to work on her vegan baking/cooking website and cookbook.
Her favourite restaurant is a vegan restaurant in Burlington called Lettuce Love Cafe. Her favourite food is nachos, pad thai, and curry, she's not afraid of spice! She loves the summer because she hates being cold, which she usually is. Her  favourite thing to do is travel. She is currently travelling on an epic vacation for three months to Thailand, Bali, Australia, and Hawaii with her boyfriend of six and a half years, Aaron Alaimo. She feels very fortunate that she is able to still work remotely and travel the world. She would be lying if she said she didn't miss her family though. Her mom is her very best friend in the world. They have a very Lorelai-Rory Gilmore relationship (any Gilmore Girls fans out there?), and they do everything together! They really enjoy going to Niagara on the Lake on weekends to eat pasta and drink wine because really, what else would you do?
We've only had the privilege of working with Emma for the past couple of months but she is already proving herself to be an invaluable member of our team and a leading contributor to our success.