Culinary Experiences You May Not Know of in Brantford
Brantford definitely has some foodie favourites including GranSasso, OnTheLam, Fume Restobar, just to name a few. But did you know we also have some fantastic culinary experiences which give dinner a bit of a twist? We've put together a list of foodie spots you need to check off your bucket list this summer!
Brantford International Villages Festival
This festival just recently passed on July 3rd-6th so if you missed it, clear your calendar for next year because this is one you don't want to miss! The Festival brings world-class memories to Brantford's thousands of residents and visitors as they explore 17 festival village halls. This four-day festival gives visitors the opportunity to enjoy cultural entertainment, including music, dancing, traditional cuisine and beverages, costumes, and cultural displays.
Enjoy a taste of many cultures, by experiencing everything from eating jerk chicken at the Caribbean Village, watching traditional Polish dancing, or having beautiful henna designs drawn on your hands at the India Village.
Our Kitchen Brantford
Our Kitchen Brantford is a family-owned commercial kitchen for small businesses to rent. So whether you're a baker or catering company and need a place to start, Our Kitchen has the set-up you need! The commercial kitchen also has an Events Kitchen (fully certified) for anyone interested in hosting a large family dinner, cooking classes, business meeting, etc. to rent at an affordable rate.
What we are really loving is now they offer lunch! So, if you need a quick bite, stop by Our Kitchen for a delicious soup, salad, sandwhich and more!
Grand River Dinner Cruise
Grand River Dinner Cruises is a unique dining experience operating along the picturesque Grand River. Since its inception in 1978, Grand River Dinner Cruises has been offering lunch, sunset dinner and nature cruises in a tranquil country setting. It is the perfect place to relax and enjoy beautiful river scenery, excellent service and delicious food.
The cruises are offered May 22 to October 6, 2019 and reservations are required. Lunch and Sunset Dinner Cruises (3 hours long) are $55.00 a person and Nature Cruises (90 minute cruises without a meal) are $20 per adult and $10 for children 12 & under.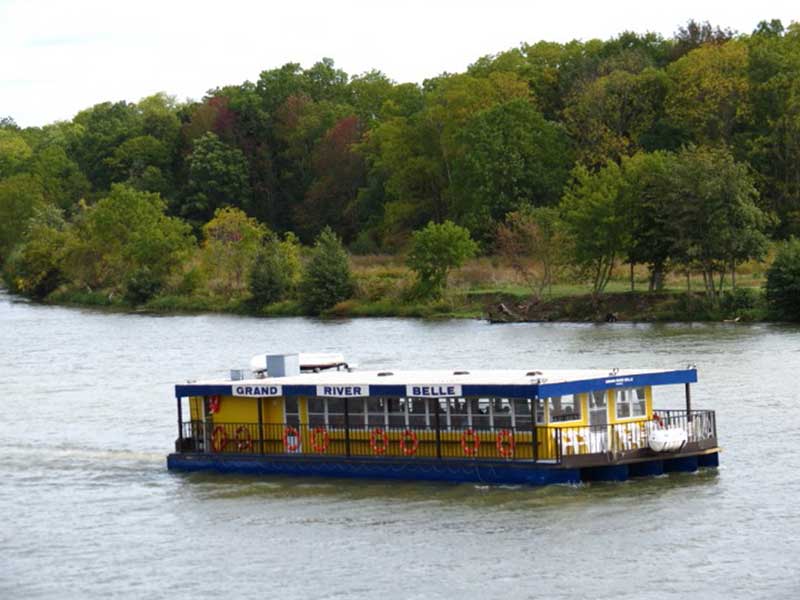 Exit 36 Truck Stop Experience
On Thursday nights in May through August, lineups of residents and folks from surrounding communities gather at Evangel Church (30 Fairview Drive, Brantford) to enjoy up to five delicious food trucks from across Ontario. Each week features around four savoury, and one sweet food truck.
Truck Stop @ Exit 36 is a hub for people to meet their neighbours, while comfortable in an environment that everyone can appreciate – dinnertime! Large tables are available to eat family style, and there are plenty of toys on the lawn to keep children occupied while parents can sample foods from a variety of cuisines.
Truck Stop @ Exit 36 runs on Thursdays from 5:00 p.m. until dark May through August, with free parking and admission.
Sunset, Wine & Cheese At The Brantford Municipal Airport
You probably didn't know that the Brantford airport is actually a great place to eat good food and socialize…
Throughout the summer, the Brantford Municipal Airport is host to an event the third Friday of June, July and August called 'Sunset, Wine & Cheese.' Need we say more? This event is $15/person and includes all you can eat plus one drink ticket. Whether you're hoping for a date night, girls night, or family night, Sunset, Wine & Cheese impresses all who attend.
The sunset is the beautiful backdrop of a social gathering as you sip wine and enjoy the variations of catered charcuterie boards and live entertainment right next to the runways. On June 21, July 19, and August 16, you can revel in the sound of local musicians and enjoy the delicious tastes of assorted meats, cheeses, artisan breads, salads, fruits, sauces, and more. This event features four different kinds of red and white wines, and four different international types of beer. Bring your friends and family, relax after work and enjoy beautiful flavoured waters and a sunset that will take your breath away. Games and train rides are available for the kids around the spectacular airport grounds. Don't forget your lawn chairs!
Waffles & Crepes Cafe
Got a craving for something a little sweet? Check out a fairly new addition to Brantford, a French inspired cafe serving waffles and crepes! Enjoy a latte with a waffle or crepe (I'm drooling at the thought) or opt for one of their savoury crepes. Yum! I can't wait to go!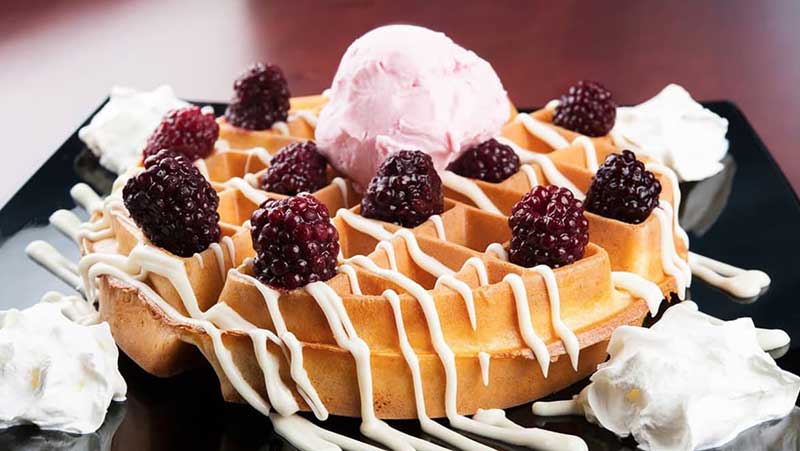 We can't wait to check these spots off of our foodie bucketlist this summer! What are you most excited to try out? Let us know on Facebook and Instagram. Happy summer! For more details, please see the full Discover Brantford Blogs.
With all the great events happening in our wonderful city, maybe it's time you moved in? Start with our free home evaluation tool and go from there.