Cutting Down on Plastics In Your Home & Life
It's hard to not think about our consumption behaviours in today's world where you can't scroll through Facebook without seeing an article about climate change and garbage patches within the ocean. In the last year I've become far more aware of my plastic use and found that once you start to consciously track the amount of single use plastics you consume that it's hard not to think about it. Now it's translated to my purchasing behaviours and I will in some cases opt for the less convenient solution if it means less plastic. In the summer months, more than anything, when you're travelling and don't have access to the conveniences of home or when you're hosting large gatherings for barbecues and parties, it really is challenging to limit your waste to a minimum. But I'm going to share some tips on some simple swaps and tricks to help you reduce your waste!
1. Say No to the Straw & Plastic Cutlery
I know you're probably tired of hearing this so I'll keep it short and sweet. Purchase a stainless steel or Bamboo reusable straw and cutlery set and keep a set for home use and a set with you in your car for on the go. They are easy to clean and the portable pouches make it easy to slide into a purse or in the glove compartment of your car. If you do happen to accumulate any disposable plastic utensils from restaurants, reuse them. They come in handy when you need to bring a lot of cutlery on the go. If you are taking a crowd of kids on a picnic, pack the disposable utensils, and at the end of the day bring them home and handwash for reuse later.
Find on Amazon: https://www.amazon.ca/gp/product/B07GDLWCKQ?pf_rd_p=46535598-d2e0-4bc4-8392-182d8c1e93fc&pf_rd_r=FAYSTZAGGC8XX7AGEM2D
2. Reusable Produce, Grocery, & Sandwich Bags
Okay so if you're like me you probably have lots of canvas or some other type of reusable grocery bags but never to use them. I had such a bad habit of forgetting my bags at home and then I would have that horrible feeling of guilt when I was asked if I needed bags and the answer was 'yes.' A simple solution? Keep the bags in your car, so even if you forget them once you get in the store, it's not a far walk!
You can also purchase drawstring mesh produce bags now too so you won't end up with a handful of small bags that are hard to reuse at the end of your grocery trip. If you also frequently use snack or sandwich bags for packing lunches you can purchase reusable, easy to clean snack and sandwich bags which are ideal for storing all kinds of food and are also great for packing toiletries for travel. One tip of advice for your reusable bags is wash often and ensure they are properly dried.
Find on Amazon: https://www.amazon.ca/Kitchwise-Reusable-Grocery-Produce-Bags/dp/B074TDB3XG/ref=sr_1_2_sspa?crid=2121Q96H2PLON&keywords=reusable+produce+bags&qid=1564587988&s=kitchen&sprefix=resuable+produce%2Ckitchen%2C164&sr=1-2-spons&psc=1
https://www.amazon.ca/Reusable-Storage-sandwiches-Stationery-organisation/dp/B078NXVJ7M/ref=sr_1_4?crid=3QRDF47SY28L9&keywords=reusable+sandwich+and+snack+bags&qid=1564588037&s=kitchen&sprefix=reusable+san%2Ckitchen%2C171&sr=1-4
3. Buy in Bulk
Most grocery items come with far too much packaging. A small bag of cereal in a cardboard box that is two times bigger than it needs to be is the norm but it's also avoidable. One option would be to buy products that you use often in bulk. Purchasing in bulk usually reduces plastic waste but not always. Just be certain that when you buy a large amount of something that you aren't getting 100 individually wrapped bags of the item. Also consider buying items at a bulk food store such as Bulk Barn where they allow you to bring your own containers to fill.
4. Go Naked with Your Produce
Say what?! Hear me out on this: don't buy produce that has been packaged in unnecessary plastic. There are some things you can't avoid- most berries need to be in some kind of box or else you would never get them home. But you don't need bananas that have been placed on a styrofoam tray and wrapped in plastic. This just ends up filling your recycle bin later.
If you shop at farmer's markets or produce stands at the side of the road in the summer, you can even empty a basket of peaches or tomatoes into your reusable bags and save the basket for the farm to reuse.
5. Return Plastic Containers/Baskets
Save your produce baskets- whether it's the small green crates you're given with berries or cardboard peach baskets. You can return these to farmer's markets where they will be able to reuse them. Or, if you have family members, like I do, who harvest their own produce, pass them along and they can fill it up with fresh fruits and veggies for you 😉
Did you know you can still purchase milk in glass bottles? If you shop at health food stores such as Goodness Me and some farmer's markets, you can buy your milk in glass jugs and return for refill when you're finished! Love that!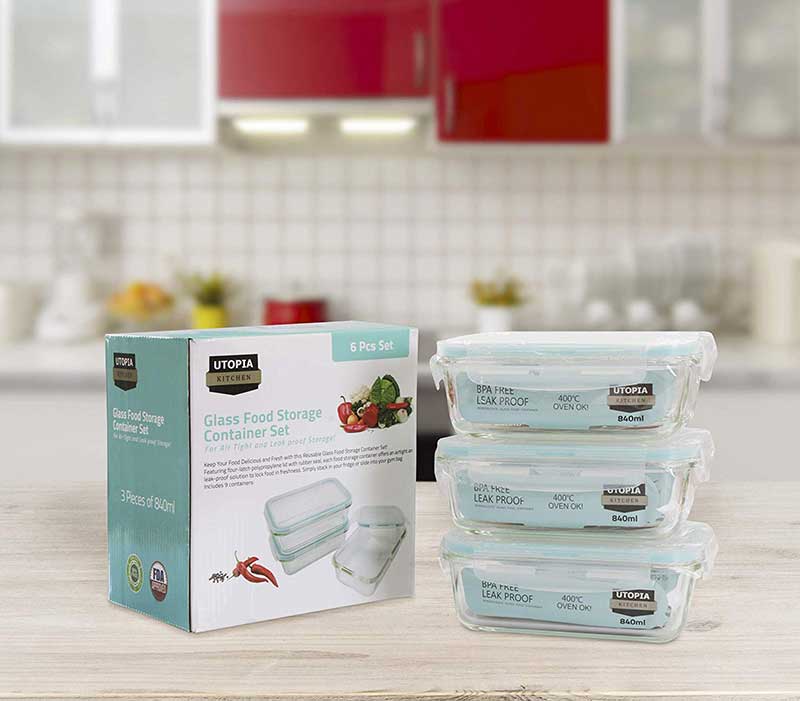 6. Replace Your Plasticware
Several years ago we replaced our plastic storage containers with glass sealable containers and we haven't had to buy new storage containers since! Glass containers are much more durable and less likely to get lost than the plastic variety, which are more likely to crack or lose their lids over time. Plus, you can reheat in the glass container and not have to worry about harmful chemicals leaking into your food!
Another option for food storage is to purchase (or make your own) beeswax wrap. It works just like cling wrap but reusable! It's easy to diy or you can purchase it from Amazon!
Find it on Amazon: https://www.amazon.ca/Glass-Food-Storage-Container-Set/dp/B071QWCYL2/ref=sr_1_6?keywords=glass+storage+containers&qid=1564588810&s=gateway&sr=8-6
7. Get It in a Cone
If going out for ice cream is part of your summer routine consider asking for it in a cone and spare the spoon and bowl! Who knew reducing plastic waste could be so tasty?
8. Match It
This is one I hadn't even really thought of before- use matches instead of disposable plastic lighters or invest in a refillable metal lighter. A box of matches will last you much longer than a plastic lighter will.
9. Thrift It
Ever since moving, I have significantly downsized on what I own especially when it comes to clothes. So when I do go out looking for something specific either for my house or my closet, I take a lot of pride in finding just what I'm looking for. And my favourite places to look? Second hand stores and Facebook Marketplace. This is a great option to use what's already out there and you typically get it for much cheaper! Win!
I hope this list provided you with some fresh ideas on reducing your plastic waste! If you have any tips of your own we would love to hear them! Leave us a comment on Facebook or Instagram telling us what you do to cut down on plastic consumption.