Cutting Your Own Christmas Tree in Brantford
While we know some of you are already hanging your stockings and decking the halls, one thing that has to wait at least a little while longer is picking out a fresh Christmas tree. If you're debating on whether or not to opt for the real deal, make this year your first with a real Christmas tree! I mean can you really pass on the smell of a REAL tree?! Charlie Brown or 12 foot tree? It's completely your choice!
Even better, there are several farms in Brant's surrounding areas to start your tradition of Christmas tree picking!
Why Cut Your Own Christmas Tree?
1. Beauty is in the eye of the beholder. Every family has their own preferred style of tree. Some like short and staulky, others like the lean and tall. White Spruce, Scotts Pine, Fir? The choice is yours!
2. Memories. You can't get much more festive than the family piling into the car and heading out into the cold (maybe even a snowstorm) to find the perfect Christmas tree. These are precious moments you remember for your lifetime.
3. The pine smell. This has to be one of the most nostalgic smells for me personally. That refreshing, oh so notable scent is one of the biggest reasons my family opted for real trees growing up. It just can't be beat! Did you know that the scent of pine can improve your mood and combat depression?
4. Helps the environment. Christmas trees provide wildlife habitat as they grow until they are harvested and replaced by another tree. Fresh cut trees are also biodegradable and can be recycled for
5. Putting back into the rural Canadian economy. Christmas trees are typically grown on family farms so you purchase is directly benefitting Canadian families and farms.
Tips for Cutting Down Your Own Christmas Tree
1. Picking the Right Tree
Before heading out tree hunting make sure you measure the space you plan to house your tree. Knowing the height and width is important to ensure your tree fits the space appropriately. Once you've picked out your tree, give it a shake to let off any loose pine needles.
2. Cutting the Tree
Saw at the base of the tree using a back and forth motion and steer clear of the area! It's simpler than it looks!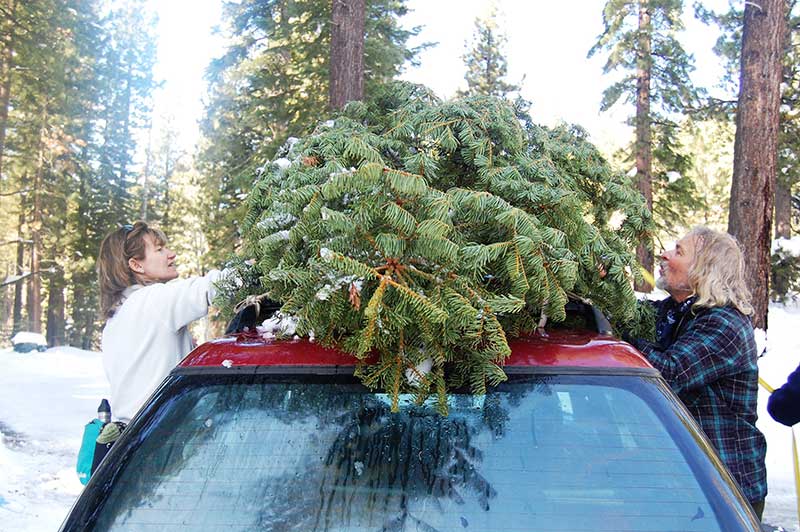 3. Transporting Your Tree
Make the travel home easy with tie-down straps and net the tree before transporting the tree back to your car. When it comes to strapping the tree to the roof of the car, place the trunk near the front of the car with the tip of the tree towards the back of the car. Loop straps through the doors of the car (not the windows) to ensure an extra secure fit. And away you go!
4. Setting Up Your Tree
Give the tree one last shake before set up and recut the trunk before placing in water. And it's ready for decorations!
Where To Cut Your Own Christmas Tree in Brantford?
Check out this link for where you can pick your own Christmas tree near Brantford: https://www.pickyourownchristmastree.org/CNONbrant.php.
Remember to only cut trees that belong to a Christmas tree farm so as not to harm trees that haven't been grown for this purpose. Having a fresh, real tree can make a big difference in your holiday cheer, and what better excuse to check out our newly listed Brantford houses for sale, than having a place to decorate your own Christmas tree.
If you have a go-to spot for Christmas tree picking, let us know by leaving us a Facebook or Instagram comment! We wish you the happiest of holiday seasons.