Design the Backyard of Your Dreams THIS Weekend
Have you seen the weather the last two weeks? Of course, you have, you're Canadian! One day it's snowing, the next it's a balmy 20 degrees, but the one consistent? Overcast, gloomy weather. Sure, we've had a handful of beautiful warm days and clear, sunny skies, but it's turning out to be a typical spring in Canada- rainy, warm, cold, snowy, and wildly inconsistent. But I can tell you that after what felt like a snow- and icemageddon winter, we are on the upswing! So, figuring that we are all likely to pull on our shorts and sandals a little prematurely (also typically Canadian to wear shorts in a blizzard), there's a good chance you're also going to be preparing your patio for the summer despite the forecast calling for snow. So this weekend get started on planning your perfect patio space! How to get started? Keep reading!
The first thing I would mention is that your backyard is entirely YOURS! Don't be concerned about trying to impress anyone. It's not like your front yard where passersby will be seeing your perfectly trimmed bushes and gnomes (if that's your thing) or having to appease the rules and standards of condo life. What this means is you should design your space as it serves you. Think about how much time you plan on spending outside (maybe you spend your entire day outside or maybe just for grilling) and what you like to do while enjoying the outdoors (reading, gardening, sports, entertaining, etc.)
Maintenance
You have to get the basics out of the way before you can get to the fun part. So before you do anything, take note of what needs a little TLC. Your deck may need a sand and stain, the landing around the pool may need to be resealed, the garden will likely need some attention, and don't forget about your fence.
Lay Out Your "Rooms"
Close your eyes, imagine yourself standing right in the centre of your backyard, there's a pleasant breeze and you can feel the sun hitting your cheek, what will your future self be doing in your backyard? Entertaining? Swimming? Gardening? Lounging? Design your space around your needs. So if you love to entertain, plan for an epic barbeque, outdoor bar, and socializing set-up. Maybe you're all about being active, so keep aside space for a badminton net and bocce ball. If you have several outdoor interests or a family with varying needs, consider all those.
Designer Caitlin Black suggests, "Consider each area of your yard its own room that also works within the landscape as a whole." Each "room" can serve a different purpose. Maybe that means a kid-friendly space for the little ones, and other designated areas to cook, lounge, entertain, and play. Organizing your backyard in this way actually creates the illusion of space which is great for smaller lots.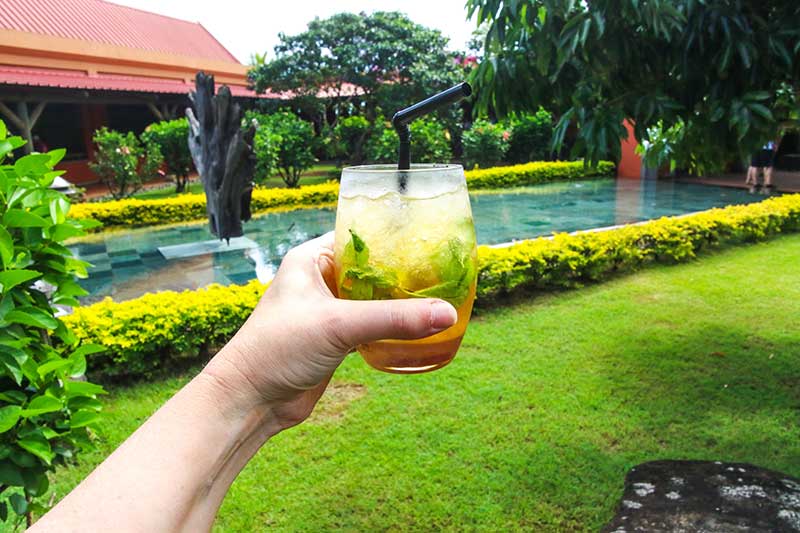 Make it Green!
When I think of the nicest backyards I've ever seen, whether small or big, they have one thing in common- landscaping accented with potting containers. Now I know not everyone is a gardener (hi, me over here!) but you can plant greenery that's very low maintenance and you can tailor what you plant according to your budget. Once you know how you want to organize your space, landscape around that or simply follow the fence line to make your yard feel more lush. The more green and less empty space, the more your backyard will begin to feel like an oasis. The next item would then be to fill some planters to place around your deck. Especially if you don't plan on doing any other type of garden, planters are a great way to gain some green! Like your landscaping, plant what works with your lifestyle. Whether you want flowers or low maintenance greenery, it's your choice. If you're a culinary enthusiast, have a planter for herbs which add an aromatic element to your backyard and will amplify any meal!
Bring the Indoors Outdoors!
My ideal backyard would look like an extension of my living room but that's partly because entertaining is one of my favourite things to do. I love the feel of a big, colourful outdoor living space with pockets of more intimate spaces. What I mean by this is designate a larger space where your family and friends can relax on a comfy couch and share conversation but also have a small pocket of seating where you could relax and read a book by yourself without feeling lonely.
Regardless of whether you're a big entertainer, having a patio table and chairs is a great excuse to enjoy lunch during the warm and sunny summer months.
If you do have a bigger budget or recently downsized and looking to increase your living square footage, consider adding some extras like a grilling station or bar! How fun would that be for hosting on Canada Day weekend?!
You could spend thousands on creating a backyard living and dining room but we don't all have that much play money! Alternatives are to buy used outdoor furniture on Kijiji, Facebook Buy and Sell groups, or Facebook Marketplace or build up your space overtime. You don't have to purchase it all in one season and think about buying any new items at the end of season when the sales are on.
Skip the Plastic, Go Custom
Large plastic play equipment can end up looking out of place in a well thought out backyard. You likely don't want your backyard to look like McDonald's play place either but of course you want a space for the kids (and big kids), so consider purchasing a custom playhouse that fits the style of your outdoor living space. You can decorate it with a colourful outdoor rug and miniature furniture. Think about what a fun project that could be by getting the kids involved to help decorate it!
Under my Umbrella
We can get some HOT summer days, where the sun is just a blazin'! You're going to want to enjoy all these moments so make sure you have sufficient coverage. Adding umbrellas and gazebos is also a great way to create the illusion of those "rooms" in your backyard. Have your large living space beneath a big gazebo to ensure everyone has a little shade.
Let There Be Light!
When you can spend all day and evening outside because the weather allows for it, you have to take advantage! This is why good exterior lighting is key. Have your space well-lit with either built in lights or create your own additional lighting with fairy lights, lanterns, torches, and fire tables. Any type of fire element will not only keep you warm when the nights cool but it will also ward off pesky insects.
Fire Pit for Roasting
Sitting around a fire pit or chiminea, listening to either my poppa or one of my musically inclined friends jam on the guitar is in every memory I have summer barbeques. Once the sun sets and the conversations get rolling a fire pit is the perfect place for all your friends and family to sit around. Keep some extra folding chairs handy or if you have the room create a little fire pit set-up with seating that you can keep out all the time. And, have a basket ready with all the S'mores making essentials and ample bug spray!
The Little Luxuries
Everyone has their own 'ideal' added extras. Outdoor speakers, colourful decorative pillows, pool accessories, a barbeque cabana are just a few examples. These are completely customizable to your tastes, budget and size of your space but they help to complete your dream backyard.
My grandparents have lived in a condo for nearly 20 years but their back deck has always felt like a little escape to nature. They segmented their (relatively small) deck into two sections and filled it with hanging baskets and potted flowers to feel more lush. But what really made their deck feel like an oasis? A mini water fountain. If you don't have a pool I highly suggest incorporating even a small water element into your backyard. There's something about hearing the calming trickling sound of water and having all the senses engaged in the nature vibe that really tie things altogether.
What does your dream backyard look like? For more home décor tips and tricks, or more info about buying a house in Brantford keep up with our weekly blog. Until next weekend, happy designing!