Family Day Weekend Activities and Events
Did you know that the first ever Family Day was observed in Alberta in 1990 with the purpose of reflecting and valuing the family life of pioneers? And now it's the perfect opportunity to spend a classic Canadian weekend away at a ski chalet with the kids or to have a staycation enjoying the activities hosted by the community. For everyone who hasn't made any plans yet and needs some inspiration on how to keep the kids busy this weekend, just keep reading.
Brantford Community Activities
Frosty Fest Brantford:
This winter carnival hosted by Freedom House is one of the largest winter carnivals in Ontario. This year's event will take place at Harmony Square on Sunday, February 18th and Monday, February 19th form 10 am to 4 pm and admission is free!
Enjoy all the activities offered including the midway, ice carving, inflatables, face painting, the Artisan Bazaar, winter themed carnival treats including the classics- poutine AND funnel cakes (yum!). But if that doesn't do it for you there will also be winter wonderland ice skating and all the lovely downtown shops and small businesses for you to explore.
Bundle up and don't miss out on what will be an amazing winter festival!
Frosty Fest Schedule of Events:

SUNDAY:
Superhero & Princess Party 11:30am – 12:30pm (Mall)
Pony Rides 11am – 3pm
Horse Drawn Trolley 12-4pm
Brant Figure Skating Club Demo 1pm (Square)
MONDAY:
Pancake Breakfast 9am-11am (Mall)
Superhero & Princess Party 11:30am – 12:30pm (Mall)
Pony Rides 11am – 3pm
Horse Drawn Trolley 12-4pm
Brant Figure Skating Club Demo 1pm (Square)
Dignitary Speeches 2:30pm (Square)

Wayne Gretzky Sports Centre:
RBC will be sponsoring a free public swim at the Wayne Gretzky Sports Centre on Monday, February 18 from 2-4 pm which is a great opportunity to tire the kids out and get your body moving!
Other Activities for the Whole Family
Get outside!
To be perfectly honest, I tend to hide in winter. But, when you find something that you love to do that gets you outdoors, whether that's skiing or snowboarding, ice fishing, skating, snowshoeing, etc. you can actually begin to enjoy our Canadian winters. If you don't have an entire weekend to spend at the slopes, plan an afternoon at Chicopee to learn how to ski, snowboard, or tube! Personally, I highly recommend snowshoeing! Give it a go if you've never tried it!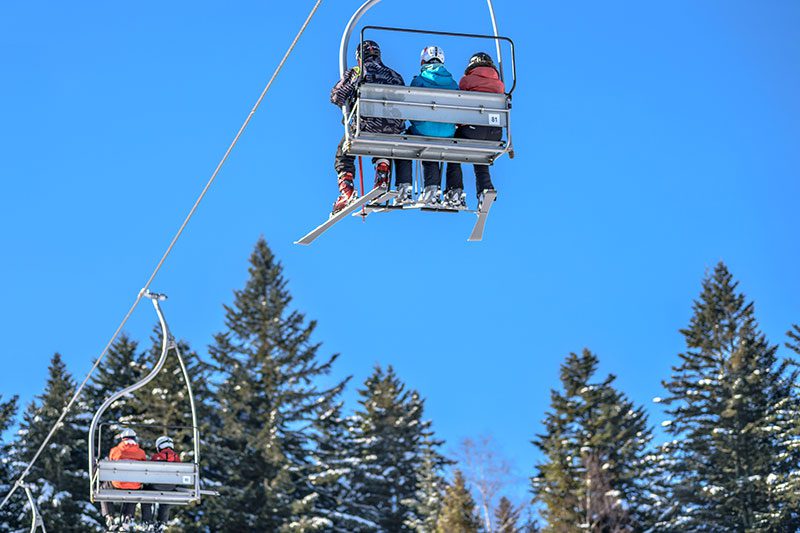 Plan a craft or try a new hobby
An extra day to yourself is the perfect time to try your hand at a new hobby or get the kids involved in a craft. Still have pictures sitting around from your last summer vacation that you haven't organized into an album yet? That's a great project for little hands! Maybe your family would be interested in painting pottery, there are classes for that in Brantford as well. Or, are you an avid knitter (or crochet-er)? Get the kids involved and help out the Brant County SPCA's Kitty Knitter program by knitting/crocheting 16"x20" blankets for cats at the shelter.
Move your body!
Long weekends in the winter can be hard when you have kids that have endless energy. Find out which arenas near you have public skate times or which outdoor rinks are open near you. If you're a yoga-goer yourself, check if there are any family yoga events or be the yoga teacher for the morning and host a class for your kids!
Day Trip
If you're feeling ambitious or just growing weary of being stuck inside day in and day out, plan a trip to Toronto. From Ripley's Aquarium and the Royal Ontario Museum to the Ontario Science Centre and Hockey Hall of Fame, there are plenty of amazing learning experiences for your children! For discounted rates on tickets to several attractions, consider purchasing a Toronto City Pass.
Quiet Time
With us, it's not just about providing houses for sale in Brantford, it's also about having fun in the community. Amidst all the fun and excitement of a long weekend try incorporating a little quiet time as well. Have some new books ready for both you and the kids to read, dim the lights and light some candles…ahhhh peace.
What are your plans for the Family Day long weekend?! Whatever you do, cherish your families and enjoy the time off! Happy Family Day!