How to get your home ready for Fall & Winter.
The days are getting shorter and the temperature is dropping.   Summer is officially in the rear-view mirror, meaning it's time to put away the lawn furniture, drain the pool and get your home prepared for the fall and winter.  Keep reading for some tips that will help you keep your home safe and comfortable during the coming seasons.
Make sure your downspouts and eavestroughs are clean.
As a homeowner you should know that water and moisture are one of your homes worst enemies.  The eavestroughs of your home work to channel rain water away from the home and it's foundation.  If these gutters are filled with dirt and leaves, they will be unable to perform properly.  This can lead to overflows where excess water runs down the side of your house, seeps into the ground around your foundation or pools on your roof. Small animals have also been known to nest in full gutters and may eventually find their way into your home's attic. It is necessary to regularly clean out your eavestroughs until the trees have stopped shedding their leaves to avoid issues down the road.
Ensure your fireplace and chimney are in good working condition.
As the chilly weather approaches, many of you may look to warm the house using your fireplace.  If you plan to use your fireplace, even once, we recommend having your chimney cleaned annually to avoid a dreaded chimney fire. If you notice that there is approximately 3 mm of soot built up on chimney walls, a chimney sweep is required. Finish off with a visual inspection of the chimney on your roof, looking for loose bricks or animals nesting inside.
Inspect your roof for damage or excessive wear.
If your roof is damaged and has a leak, now is the time to fix the problem.  Don't leave it until water starts dripping into your home during a November storm.  A common shingled roof has a lifespan of around 15-20 years in ideal conditions.  Start off with a visual inspection from outside, looking for missing, loose, or worn-out shingles exhibiting signs of rot or mold.  Take a look around any vents for cracked seals or damaged caulk, making repairs where necessary.  Head inside to your homes attic and view your roofs underside for holes, cracks or signs of water damage.  Look for animal nests and ensure that the soffits aren't blocked.  These soffits ventilate your attic, keeping moisture and mold at bay.  Keep in mind that a roof is not an easy place to access, so if you're uncomfortable doing so, make sure you call a professional.  Your safety should be your main concern.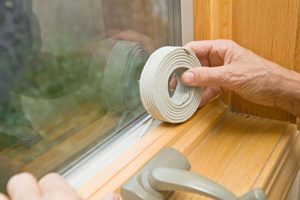 Inspect weather stripping around windows and doors.
Weather stripping loses its effectiveness as it ages, allowing cold air and moisture to enter your home.  This can increase your heating costs substantially as well as make your home uncomfortable to live in.  Check for cracked weather stripping or drafts around your windows and doors, making replacements where necessary.
Inspect your homes furnace and boiler.
Don't be left freezing in your home because your furnace bit the dust in the middle of winter.  Hire a professional to perform a basic inspection and ensure you'll have the means to keep warm all season.  On top of that, the air you'll be breathing all fall and winter is travelling through the furnace before being pushed to the rest of your house.  Replace furnace filters if they're dirty to ensure an efficient furnace and that your breathing only clean, quality air.  A properly functioning furnace and boiler are also much more energy efficient, which helps keep costs down.
Winterize your air conditioning unit.
If your home uses removeable AC units, take them out of the windows and store them in accordance with the manufacturer guidelines.  This will cut down on the cool air that can blow into the house and makes sure that your unit is ready to go again next summer.  For outdoor or whole home air conditioning units, power them down from the main breaker panel and flip the safety shut-off switch located on the unit itself (if applicable).  Cover the unit with it's provided cover (similar to your barbecue) to keep the elements from damaging it.  Place a sheet of wood or something similar on top of your unit to keep it safe from falling icicles.
Get your seasonal tools in order.
Take the time to make sure any tools you might need throughout fall and winter are within reach and in working condition.  For fall this means rakes, leaf blowers, ladders and gardening tools.  For the winter you'll likely need snow shovels, sand or ice salts, a snow blower and an ice scraper.  Store all your needed tools in one easy to reach area and save yourself time and hassle down the road.
Drain your garden hoses and shut off outside faucets.
Any faucets outside of your home need to be shut off and drained before the temperature drops below freezing.  Failing to do so will lead to burst or cracked pipes and very expensive repairs.  Any outdoor faucet will have a shut-off valve located inside your home, typically close to where the faucet exits to the outside but also sometimes located where the main water line branches off.  If you are unable to locate the shut-off valves, get a professional to help you.  After you've turned the faucet shut-off, go back to the outside faucet and turn it to open.  Do the same for the inside drain plug if your shut-off valve has one.  Once the water stops dripping you can return the faucet and drain plug to the off position.
Use a ladder or sloping driveway to lay out and drain your garden hoses if you plan on storing them outside in a shed or the garage.  Just like your pipes, water left inside hoses will turn to ice and can burst or tear the garden hose.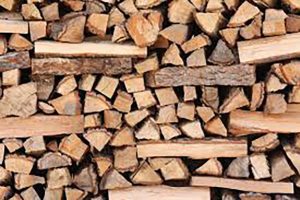 Stock up on firewood.
If your home has a working fireplace we recommend having a store of firewood handy somewhere around the house.  Not only is a fireplace a great way to relax in the evenings, but it can also keep your house heated in case your furnace fails.
Spring flowers require planting bulbs in the fall.
There are a bunch of flowers that will bloom come springtime if you plant their bulbs ahead of time in the fall.  Lilies, tulips, daffodils, iris's, hyacinth and more are all pretty choices for some springtime colour.  However, their bulbs need to be in the ground before it freezes.
Other mentions and smaller items.
Replace the batteries powering your smoke and carbon monoxide detectors, check the expiry date and charge level of all fire extinguishers, test and inspect basement sump pumps and inspect your dryer vent.  If you plan to use a snow blower in the winter, now is the time to remove loose rocks from your driveway and walkways, move extension cords out of the way and mark your snow clearing area with markers.
The tip to enjoying autumn and winter, without experiencing issues with your home, is to get all your chores and maintenance done before the cold weather begins. From saving money on heating costs to keeping your tools and equipment in working condition for next summer –  a little work now can pay huge dividends later on.