Her Majesty's Royal Chapel of the Mohawks in Brantford
Ok kids, I'm going to continue our history lesson this week with another very interesting cultural landmark we call our own, Her Majesty's Royal Chapel of the Mohawks. Located at 301 Mohawk St., along the bank of the Grand River on Six Nations land located within Brantford. Even the name sounds important and steeped in history. It's so important that we know about the events in our history that led us to where we are today.
The tiny chapel is the oldest surviving  church building in Ontario, having been built in 1785 it was originally named St. Paul but in 1904 the British monarchy designated it as a Royal Chapel as a tribute to the Mohawk people, led by Joseph Brant, for their loyalty and support during the American Revolution. It was also the very first Anglican church in Upper Canada. It is one of only 3 royal chapels in Canada. In 1981 it was designated a National Historic Site of Canada.
Between 1959 and 1962 eight spectacular stained glass windows were installed, each depicting important events from the history of the Six Nations and Iroquois people and their role in Canadian history. They feature individual descriptions displayed in each window. They now stand to serve as one of the main visual attractions of the beautiful site.

Not only does it still currently run as chapel of ease for baptisms it also serves as a museum and educational historical site from May – October every year hosting tours, workshops and several community functions throughout the year.  The Mohawk Chapel offers educational workshops to school aged children to teach them about the history of the native Six Nations and Iroquois people, the significance of the events depicted in the stained glass windows, the war of 1812, and much more. The building is available for rent for events, birthdays, meetings and family functions and the space can hold up to 120 people. They also host a special service for Easter, Thanksgiving and Christmas each year for one and all to enjoy.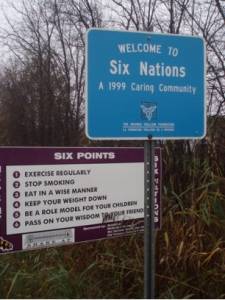 Approximately 3000 people visit the historical site each year to soak in the rich stories of our past. It is run by Run by Six Nations Tourism, a sub-department of Six Nations of the Grand River Development Corporation. Cultural Experience packages are available through Six Nations Tourism which include tours of nearby Kanata Village, Woodland Cultural Centre, Chiefswood National Historic site and Kayanase's 17th century replica longhouse, guided kayak tours down the Grand River and traditional native people's games. If someone would like to request to have a Baptism, the rental request must be put through to the Royal Chaplain Rosalyn Elm, and she may be reached through the Cultural Coordinator at [email protected] for any inquiries.
Mohawk Chapel is an important cultural and historical destination drawing eager and hungry minds to Brantford to learn more about Canadian history. To learn more visit www.mohawkchapel.ca.