How to Throw an Eco-Friendly Party
Okay, real talk for a second: This blog was going to be about how to make your home more energy efficient and eco-friendly. But then I realized that this is a long weekend and you know what that means? PART-AY! So, now I'm going to offer you a little advice on how to make your parties more environmentally friendly! Now, that is a lot more fun.
Personally, I would consider myself to be a fairly conscientious person especially when it comes to the environment and doing my part. But being eco-friendly starts with awareness and to be perfectly honest it wasn't until about two summers ago that I realized how much waste can be involved in parties. I have this distinct memory from a Canada Day weekend barbeque that my family hosted. I was walking past our garbage bin that we always set out at large gatherings and it was HEAPING with plastic cutlery, half used plates, and even some recyclables. It made me so sad seeing all that unnecessary waste and a lot of it was barely used. Having that first hand perspective of single use materials made me realize how much we in fact use and dispose every single day. Now that we're headed into the season of barbeques, pool parties, and wedding festivities, here are some helpful tips to keep your waste to a minimum!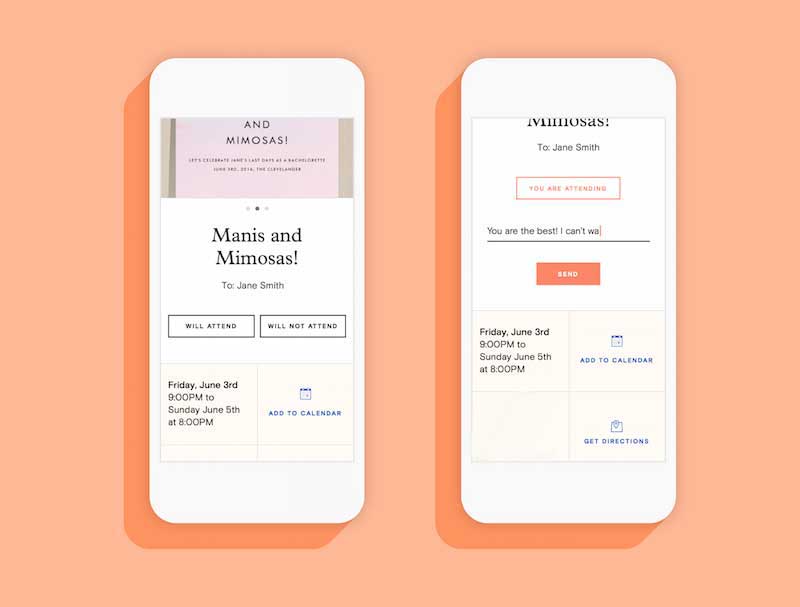 Paperless Invites
There are so many great sites to create digital invites. My cousin even sent a digital invite for her wedding and it was so sweet! Sure, I understand the pleasure in feeling that weighted cardstock between your fingers (it almost feels regal doesn't it?) but when you're sending out hundreds of invites all that paper ads up and not to mention the cost. People may turn up their nose at a digital invite but if you're not going the conventional wedding route anyway, this could be a great alternative for you! As for larger family gatherings or reunions, create a Facebook group which will make communication of who is bringing what even easier.
Shop Local & Eat Your Greens
Soon enough the farmers' markets will be stocked with in-season veggies and stands on the sides of roads selling produce will be popping up all over. Buying from your local farmers is a more environmentally friendly alternative to big superstores where our produce has to be shipped from across the world. And, fresh produce from your local farmer's market tastes so much better!
Another way to eat more eco-friendly is to limit the number of meat options at your functions. Consider having mostly plant-based protein sources available such as tofu, tempe or vegetarian meat alternatives. There are endless options for vegetarian burgers and sausages that are fantastic! Give them a try! You can provide your guests with a small selection of cage free and pasture raised chicken and burgers from your local farmer, as well.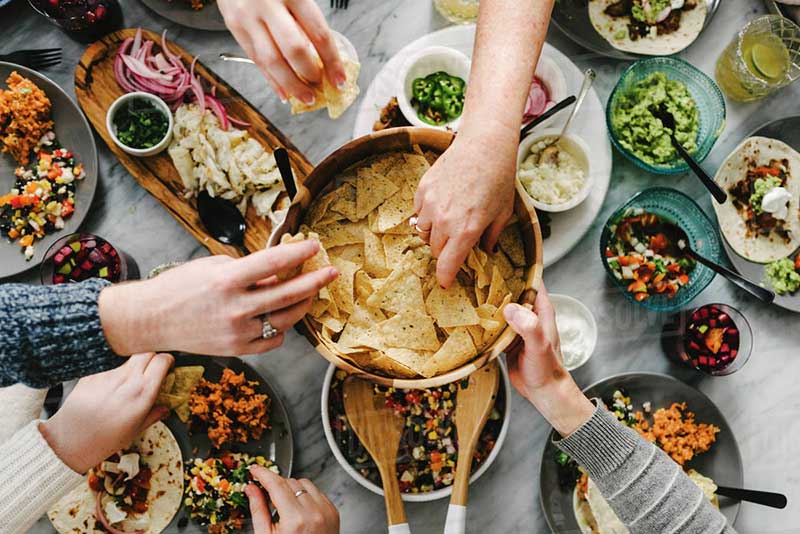 Forgo the Fork!
Have you ever had a finger-food party? I've always loved these! It is exactly what it sounds like- only foods that you can eat with your fingers and usually that means all the good stuff like chips and guacamole, mini quiches and sliders, spring rolls, cookies, cupcakes, etc. What's great about these is that you don't even have to think about big paper or Styrofoam plates. Leave out some big napkins and toothpicks and you're set!
If toothpicks and napkins aren't going to cut, it there are lots of options now for reusable and biodegradable tableware. Check out Amazon for all your options and plan ahead so you're not stuck without plates for your party. Dishware and cutlery rentals are also a fantastic option which also minimizes your clean-up when you opt for a company that does the dishes for you!
Bins Out!
One of the best ways to encourage recycling of bottles and cartons at parties is to have a big recycling bin where everyone can see. No excuses for not recycling! If you compost, also have a designated spot for food scraps. Clean up becomes so much easier for everyone when your guests know where to dispose of food wastes and recyclables.
Leftover Food Plan
When you plan to feed for a crowd there's no getting around leftovers no matter how well you plan. Running shy on food is a host's worst nightmare. So what happens? You overcook. This can seem like a problem if you're not a fan of leftovers. When I'm hosting I don't mind having leftovers, in fact I somewhat rely on having them. I treat it like a two in one- I'm hosting the family AND the leftovers= lunch. You may not feel the same way about leftovers and if that's you then there's a solution to throwing it out the extras! If you know there's a high chance of extras, invite your guests to bring a container for leftovers. And if there's any additional food beyond that, see what can be frozen for the kids' lunches, just make sure you pack it up in airtight containers.
If there is too much food beyond what you can share with your close friends and families, see if there are any organizations that could use the meal to distribute to families in need within the community.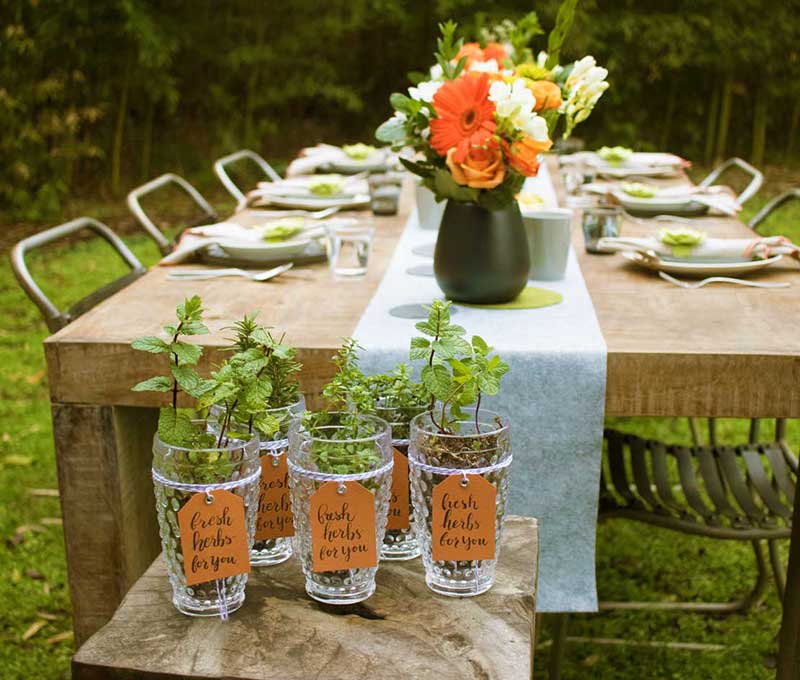 Party Favours
Whether you're hosting a kids party or bridal shower, there are lots of cute and creative options for keeping things ethical when it comes to party favours. And realistically, party favours are fun in theory but half your guests end up forgetting them anyway. Here's a funny my friend shared on Facebook several years ago. Her wedding favors were monogramed mason jars with her and her husband's initials and wedding date. Well, one day when she was browsing Value Village when she saw some of her wedding favor jars on the shelves…that's cringy. So point of the story: make your wedding favors edible or unforgettable.
When my best friend married a couple years ago her wedding favours were little sachets of seeds which was so unique. You could also use this idea at a kids party and make a craft out of it where the kids can plant their own seed. All you need is the seeds, some small pots and potting soil! And, even if your guests don't end up using them at least they will go right back to the earth and not into a landfill.
Here's another idea I got when I went to a bridal shower recently. The party favours were homemade biscotti! YUM! Everyone loved it and no one left without them. Homemade foods, like jarred jams, some kinds of cookies, and even homemade caramel corn that you don't have to worry about going bad are excellent options for party favors that won't be forgotten or donated for that matter…
Well those are my tips on how to have a waste-less party! So whether you're out house-hunting in Brantford or getting ready to party, cheers to a safe and happy long weekend!