Introducing the Team – Marcy Saunders
I was born in Hamilton, Ontario, the forth child of what would eventually be five children. Our family occupied a smallish three bedroom apartment and I had to share a bedroom with my two sisters which required a certain amount of diplomacy and compromise as we tried to stake out our respective spaces and establish our individual personalities. This might help to explain my penchant for open concept living and ample living space.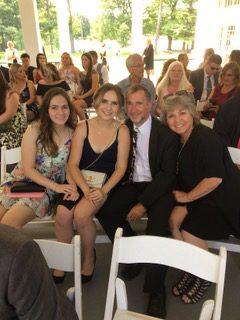 Upon graduating from high school, like many young persons, I wasn't entirely certain what I wanted to do for the rest of my life. A university education was not entirely appealing to me, and also unaffordable at the time. Casting around I decided to take a course in Dental office and Chair side assisting. Upon graduating and procuring employment in a local dental office however I quickly determined that rooting around in the mouths of my patients left me a little queasy at times and probably wasn't the career path that best suited my particular talents. I then went to work at the  Hamilton Health Sciences in a clerical position. I would spend the next 34 years with my employer working in different hospitals in such varied departments as intensive care, neonatology, out patient clinics, MDU and radiation. I found the job very satisfying and met some remarkable people in my various roles.
I met my husband Ron in 1984, and we married in January, 1987.  He is my best friend and a wonderful father to our children. We eloped to Las Vegas to get married after winning the trip from the hospital.
Ron and I are parents to two beautiful and talented daughters. Nicole Robin was born in September 1993, followed four years later by her sister, Taylor Brooke. Nicole graduated university with her masters degree and is currently working as a paramedic in Hamilton and Taylor just graduated on the Dean's Honours list with her undergraduate degree in Science and is now completing her 2nd undergraduate in Education. We could not be more proud. Ron and I are also housemates with two dogs, Kennedy and Hudson, and a couple of exotic, and a little bit neurotic birds ! In my spare time ( what's that?) I volunteer at the Stedman Community Hospice in Brantford. It means a lot to me to be able to give back to my community.
                Prior to retiring I enrolled in the OREA's real estate course, graduating in Jan., 2020. I felt I was still young enough and have always had a passion for real estate. I was extremely fortunate to join the Century 21- The Munir Group, in Brantford.  I would like to thank Manny Munir for providing me with this opportunity and look forward to working with the wonderful team that he has created.