BIG ANNOUNCEMENT! We are working with the Brant County SPCA!
If you haven't been keeping up with us you may not be aware that for 2019 we are supporting the Brant County SPCA! We're thrilled to finally announce this and start things off with a really sweet kickoff event!
Why the SPCA?
Family makes a house a home, and for many of us, our families wouldn't be complete without our beloved pets and the love they bring into our homes. It's seeing a wagging tail at the side of your bed when you wake up in the morning and being greeted as if you have been gone for years when you return that says "home sweet home." Sadly, over 2 million dogs in Canada don't have a home, but fortunately, thousands of homeless pets are rescued by the Brant County SPCA each year. Last month, 134 animals were saved by the Brant County SPCA alone. Wow!
The SPCA is a not-for profit and non-government funded organization dedicated to animal welfare and advocacy. For 50 years the Brant County SPCA has been providing shelter and care for homeless animals, facilitating pet adoption, humane education, and investigations into animal cruelty.
Being pet lovers ourselves, supporting the Brant County SPCA was a naturally perfect fit for our team. We couldn't be more excited to help the lives of our furry friends!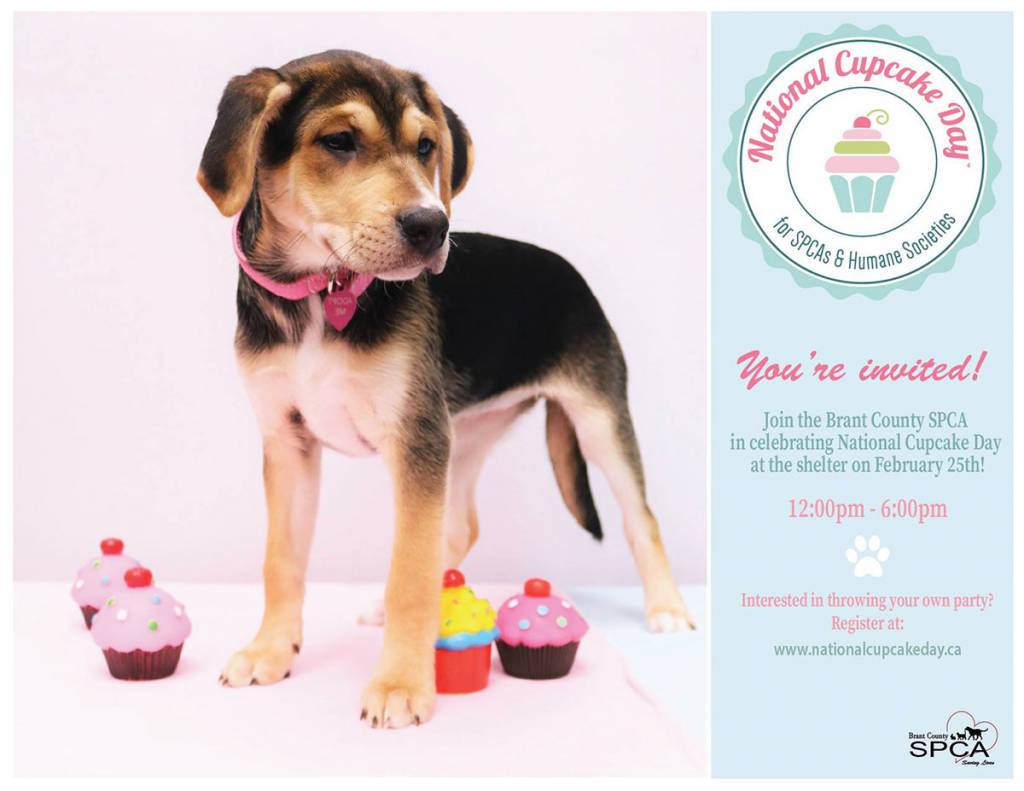 National Cupcake Day
National Cupcake Day is the sweetest day of the year! Celebrated on February 25, 2019, the day is recognized across Canada to raise money in support of local shelters, SPCAs, and Humane Societies. Participating local businesses and workplaces will be selling cupcakes, accepting donations, and hosting their own cupcake day events- all to ensure the life-saving work of these animal welfare services continue.
You're Invited!
Celebrate National Cupcake Day with us! On Friday, March 1st we will be hosting our own cupcake event in partnership with our host's The Water Bar. We will be at the Water Bar throughout the day on the Friday selling cupcakes and accepting donations. Come get a sweet treat, we would love to see you there!
Where: The Water Bar at 97 Charing Cross Street, Brantford
When: Friday, March 1st
What: The Munir Group Cupcake Day Event
Ways to Get Involved
The Brant County SPCA has several opportunities to allow you to get involved! Apply to volunteer where you can use your handy skills to assist in shelter maintenance, or perhaps get moving and be a dog walker. If cat grooming or reading to stressed pets are more your style, you can do that too! Short on time but would love to donate? There are plenty options at all kinds of budgets. For more details please visit: https://www.brantcountyspca.com/donate/ Every month the Brant County SPCA posts a wish list to their website and Facebook page if you're interested in donating any items. For the wish list please visit: https://www.brantcountyspca.com/wishlist/
PS we also keep the wish list in the office if you're stopping by and would like to take a look!
Stay Tuned!
We're proud of our community for having such passionate organization that is committed to the wellbeing of Brantford's animals and pets. Please keep up to date on our work with the SPCA via our social media announcements every month. There is much to look forward to!