Are you wondering whether Waterford ON has enough fun and entertainment opportunities because it's a small community?
Well, that's what many people think before taking a visit to this beautiful village. Gone are the days when Waterford was considered to be the ideal place for farmers. The community has evolved over the years, and it's now attracting people from all walks of life.
You should confidently plan your trip to Waterford, Ontario because you can enjoy plenty of activities here. Also, if you're planning a trip to the area, be sure to also check out our page on Waterford Historic Sites.
Now, without wasting any time, let's talk about things to do in Waterford, Ontario.
Explore Our Top Choices For Waterford Things To Do
Water Heritage & Agricultural Museum
Located in "The Pickle Factory," Waterford Heritage & Agricultural Museum provides a richer understanding of the community throughout the year. Waterford is best known for its agricultural efforts, and the museum shows a clear view of how the community went through different phases of development within agriculture.
The museum isn't just limited to agricultural history, but you can also learn the community's social history in this museum. You'd love exploring the stories of individuals who participated in the growth of the community. The community members gather here on different events to share their experiences with others.
You may also build connections with the locals if you happen to visit the museum during an event or exhibition.
A visit to the Pickle Factory is a must when you're heading to Waterford Heritage & Agricultural Museum. Here you'd get a chance to try your hands at milking the moo-seum cow. You may also get a hands-on experience of how cucumbers are processed in the pickle factory.
We recommend visiting this museum and the Pickle factory because there are very few places quite like it around.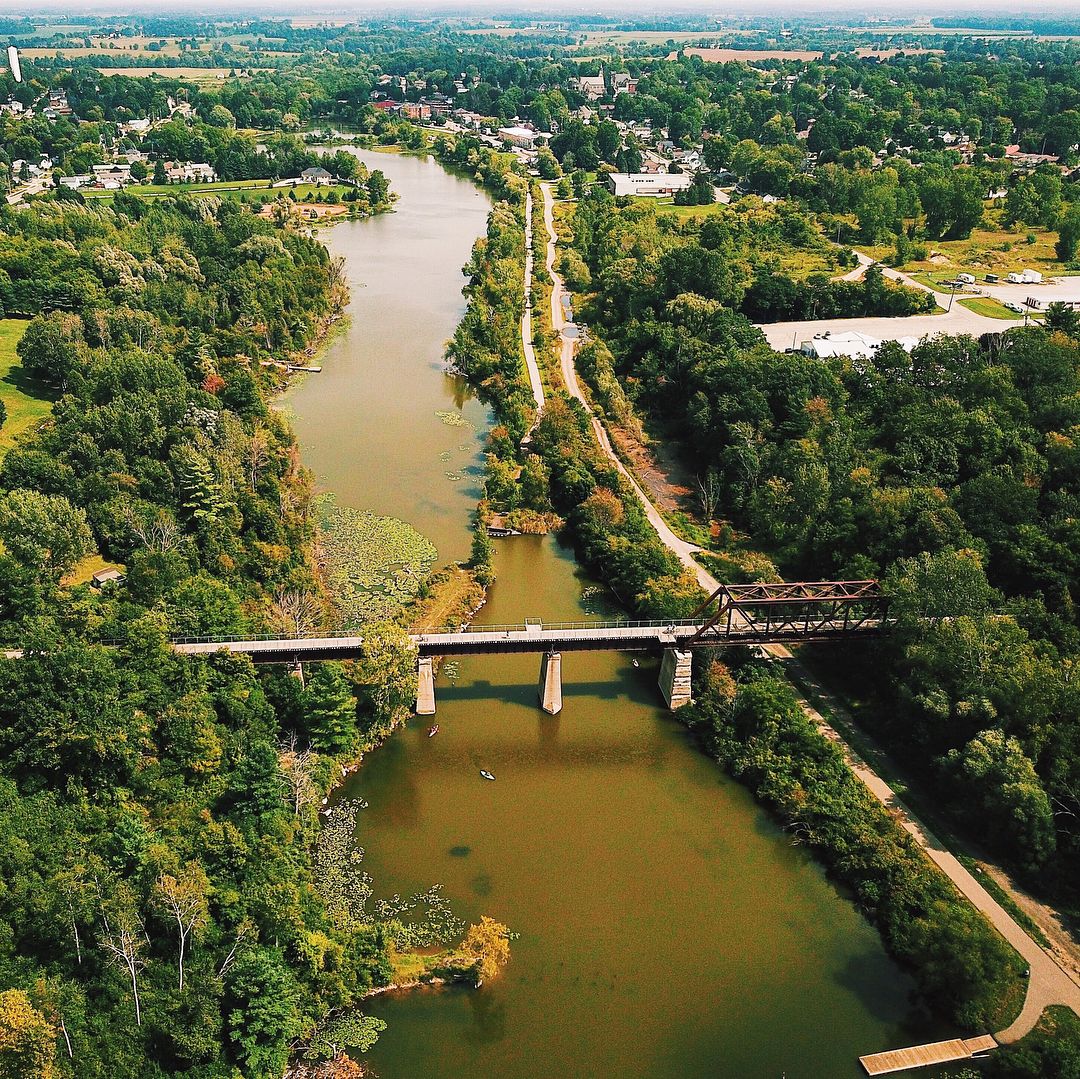 Waterford Heritage Trail and Shadow Lake Park
Waterford Heritage Trail offers lots of fun activities for families. You'd love exploring the panoramic views of the Waterford ponds while walking or cycling on these trails. The shadow lake park offers several water sports like paddling and fishing. We bet you'd get to enjoy unforgettable moments on this trail.
The authorities have established parking spots in different locations, making visiting and parking no issue in this small community. If you're a resident of this village and want to visit the trail at different times of the year, you may take advantage of the authorities' parking plans.
Black Bridge
Why not consider visiting a century-old, high-level rail bridge during your visit to Waterford, Ontario? This 166-meter long bridge is easily accessible through the trails from Delhi, Brantford, Simcoe, and Port Dover. You'd get to see the fields of potatoes, ginseng, tobacco, and other crops along the way.
The trip gets a lot more exciting when you see the wild turkey, deer, turtle, an eagle, and other animals in adjoining woods and ponds. Now, let's talk about the most important part of the trail "The Black Bridge" where you can see the stunning views of Norfolk County.
The Waterford Township is located on the east of the bridge while the west side shows the Waterford Ponds and the Miedema Bridge, a charming tiny pony truss bridge. You may also see the locals enjoying several water activities during summer and spring. These ponds are home to different species of fish. So, if you like fishing, you may also try your skills here.
Whistling Gardens
A truly unique place and definitely somewhere you can spend romantic moments with your partner. It's a peaceful and fresh tourist spot for those who appreciate and enjoy beautiful flowers. The authorities have established nooks in different areas so the tourist may relax and enjoy the scenic views. The tourists often admire the incredible fountain show. It's an ideal spot for those who like to enjoy a true breath of fresh air.
And how can we forget the chirping of birds that offers a remarkable experience while you're sitting in the garden? The whistling gardens of Waterford, Ontario are the hidden gems of Canada that everyone must explore during their visit to Ontario.
Waterford North Conservation Area
Waterford North Conservation Area is the ideal spot for anglers as there are many fish species, including Panfish, northern pike, and largemouth bass can also found in the three ponds of this area. These three ponds are called Bass Lake, Willow Pond, and Pickeral Lake, and they are best known for the pronounced shorelines and deep rocky bottoms.
This conservation area consists of 100 Unserviced campsites with a small sandy beach, canoe rentals, shady picnic areas, a food concession booth, and an unsupervised swimming area. The authorities have upgraded almost 50% of the campsites to make them accessible for trailers.
The Long Point Region Conservation Authority operates the Waterford North Conservation Area. No matter whether you want to catch fish or want to go on a picnic with family, Waterford North Conservation Area offers lots of entertaining activities. The conservation area is just a few miles away from the Waterford Heritage Trail. You can explore both the tourist spots in one day.
Bonnieheath Estate Lavender & Winery
Bonnieheath Estate Lavender & Winery is one of the most popular spots that attract tourists from all over the world. The farm is available for tourists from May to December. The tourists can enjoy self-guided tours of the wetlands, vineyard, lavender fields, wildflowers, and prairie grasses.
The visitors can enjoy self-guided tours from 11 am - 5 pm. However, you should avoid bringing your pet with you because, unfortunately, pets aren't allowed here.
Waterford Things To Do Conclusion
Although Waterford is a small community, it offers amazing opportunities for fun and adventure lovers. You can bring your family with you to enjoy some incredible moments in this region.
We hope you've enjoyed our top choice for Waterford Things To Do that we've compiled for you here at The Munir Group.
Discover The Beauty of Waterford Ontario
Discover Waterford Ontario with The Munir Group